How Personality Tests Can Become an HR Nightmare
December 15, 2022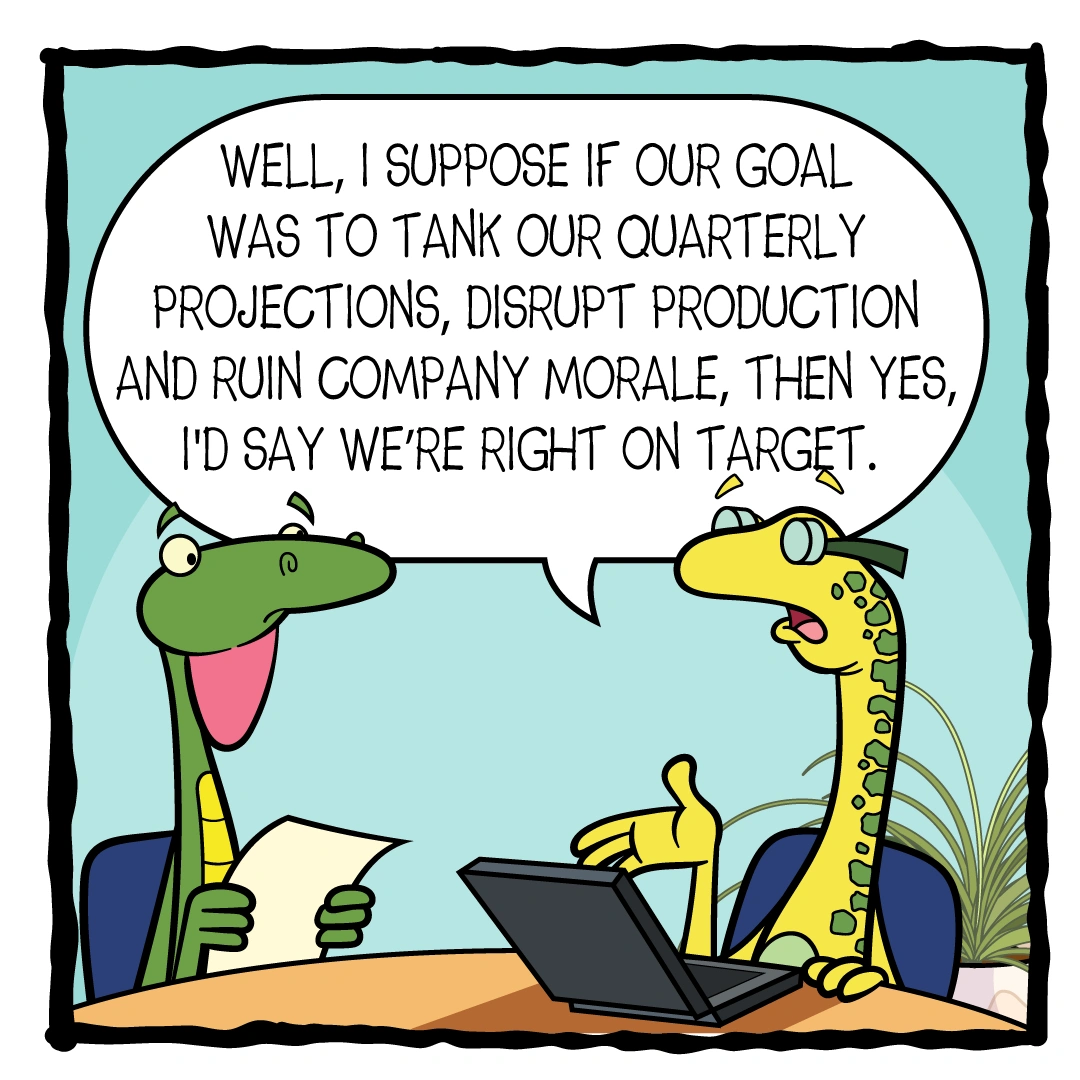 Learning and development (L&D) are crucial for business success. Organizations that are unwilling or unable to adapt to changing contexts seldom succeed in the long term. L&D professionals often administer personality assessments to individuals and teams to better understand the personality types of their employees (and themselves), with the goal being to form higher-functioning teams that drive positive business outcomes. Some traditional personality assessments on the market are: Myers-Briggs Type Indicator (MBTI), DiSC, Strengthsfinder, Predictive Index, High 5 Test, 16Personalities, Insights Discovery, and Clifton Strengths.
Once the results of these personality assessments are generated, HR professionals are often tasked with figuring out what to do with individuals who embody conflicting personalities that trigger divisive, or even toxic team climates. An extreme approach is to move the people with difficult or conflicting personalities within an organization onto different teams, or in some cases, terminate them. This method of talent management can lead to many unintended negative consequences that can amount to legal liabilities if handled improperly.
The underlying problem with this approach is rooted in a major flaw assumed by many of the traditional and most popular personality assessments: that personality is static. In 1890, William James first published "The Principles of Psychology," which claimed personalities do not change, which led to nearly a century of personality profiling. In 2003, the American Psychological Association noted the changing consensus in the field that personality does, in fact, change over time.
From a DEI perspective, assigning a single personality to an individual under the impression that they cannot change is, in essence, a type of profiling. From a legal perspective, although personality is not a protected class, if used as the basis for hiring, firing, promotions, demotions, or succession planning can potentially violate the Americans with Disabilities Act ("ADA"), Title VII of the Civil Rights Act of 1964 ("Title VII"), and the Age Discrimination in Employment Act ("ADEA"). Additionally, from an L&D perspective, approaching individuals' personalities as unchangeable undermines the whole notion of coaching and personal development toward a state of agility.
Therefore, as opposed to moving difficult people around in an organization based on their conflicting personalities, the personalities of individuals and teams should instead be coached to become more collaborative and agile. By routinely coaching employees towards agility–developed by awareness and growth in character strengths–businesses can simultaneously reduce the risks associated with talent reorganization, while increasing productivity and retention rates. This is the approach and methodology used by Tilt 365.
Tilt365's research shows personality types are not static, but are instead conditioned or intentional responses to different stimuli. These responses can be altered through self-awareness, team workshops, and individualized coaching. Tilt assessments differ from other assessments because they are designed for the personal development of users, unlike older assessments that were initially designed by and for psychologists to profile patients.
As opposed to personality profiles, which are often visually confusing and difficult to put into practice for L&D purposes, Tilt assessments use easy-to-remember visual frameworks that help organizations form a common language regarding personal and team development.
Tilt assessments show how people can grow beyond their personality preference by balancing character strengths and actively building skills to become more comfortable with the less developed part of themselves. Therefore, organizations using personality assessments for L&D and talent management should avoid outdated profiling tests and instead leverage assessments designed to evolve individual and team behaviors toward agility.
Tilt365 Solutions
Tilt365's suite of assessments includes the True Tilt Personality Profile™ (TTP), the Positive Influence Predictor™ (PIP365), and the Team Agility Predictor™ (TAP). All assessments are able to be retaken by individuals and teams as often as desired for a full year.
True Tilt Personality Profile™ (TTP)
The TTP assessment is used to discover individuals' preferred (but not permanent) personality patterns, which only takes five minutes, as opposed to many other assessments that can take upwards of an hour. Individuals are given access to a personal journey dashboard where both the assessment reports and e-learning modules are located.
Positive Influence Predictor™ (PIP365)
The PIP365 is a 360° assessment that compares how individuals perceive themselves with how their team members perceive them. Since the PIP365 assessment can reveal feedback for individuals that can be uncomfortable, individual debriefings in one-on-one settings are recommended. This assessment is excellent for individualized coaching and can be integrated into performance management plans.
Team Agility Predictor™ (TAP)
The TAP is a team 360° assessment that uncovers how well a team is positioned to meet the challenges of their current goals and enables them to develop strategies to adapt to ever-changing conditions and futures. With only 12 questions, the assessment only takes five minutes to complete and is therefore also beneficial as a pulse check.
Certifications
Tilt Assessments Certification gives practitioners a deeper understanding of the underlying psychology of the assessments to assist with debriefing individuals on their reports. This is great for HR professionals (like HR managers) to build Tilt into their professional development and performance management plans. For HR professionals (like HRBPs) who want to take personal charge of coaching and development, Tilt also offers a Laser Coaching certification. All Tilt certifications are ICF and SHRM approved.