How a Hidden Personality Trait Derailed My Job Interview - Part 1
May 9, 2023

I knocked my interview out of the park. Why didn't they call me back?
The Connection Tilt Pattern
You checked all the boxes:
You hit it off with the interviewer

You had a ton in common

Your interview even went into overtime
But despite all your efforts to connect, things didn't turn out as planned. While all those things mentioned above might be good, it's possible that what was missing are the things you were unable to see about yourself. Unfortunately, those things are often painfully obvious to those around you, and because they are unconscious to you, they also tend to be the things you struggle with most.
When Strengths Alone Aren't Enough
Most people tend to focus on their strengths which is a good thing, but balance, which is just as important, is often missing from the equation. Leaning too far in one direction or another has a tendency to throw us off balance. So if we focus solely on our strengths, we may come across in a manner that shows we are out of balance and, as a result, not make the best impression
What does it look like to be out of balance?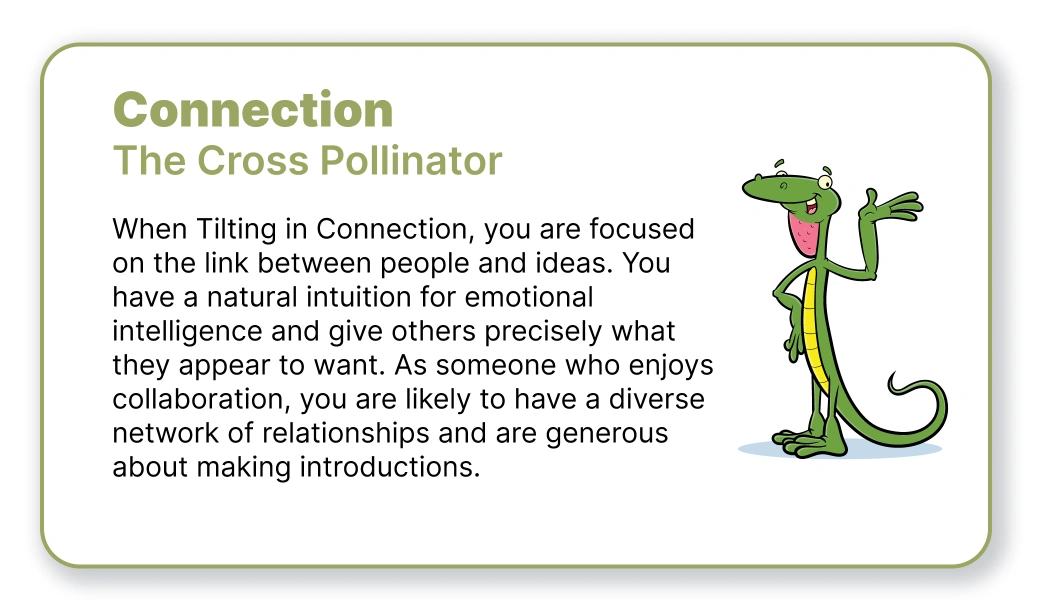 Since we're discussing Connection let's stick with that trait and define who connection is:


When you are Tilting in CONNECTION it means you currently appear to be focused on connecting PEOPLE and IDEAS, and your top two character strengths are seen as Likability & Openness. This combination may mean you are tuned in to people and socializing your ideas right now. You may notice you are more alert to the needs of others and can intuit just how to help them. In this mode, you may feel more receptive than usual and can quickly interpret the cues to improvise. You may be focused on expanding social networks and positive influence through others
Many Connections lean into likeability, which often includes availability. When it comes to availability, Connection's answer tends to be, "yes". Saying, "yes", may initially please those around us but saying "yes" too often has a tendency to backfire when it comes to execution.
What's missing?
As connections, we tend to avoid things that feel overly Structured. Things like planning, decision-making, and being well-organized. These things often feel tedious and take us connections away from what we do best.
Not sure where I'm going with all this? Let me tell you a little story about the job that slipped through my fingers when I went all in on Connection.
The Job that slipped through my fingers
I've always loved teaching. I've been drawn to it for as long as I can remember. I've taught for many years, but when I was younger, I had an opportunity that dropped into my lap, which could have changed the trajectory of my career much earlier. Sadly I wasn't well prepared, and I blew it in a humiliating crash and burn that still causes me to cringe just thinking about it.
The prelude to a possible teaching position earlier in my career included me giving a one hour seminar on the topic of my choice. If successful, a teaching position would be made available. I was thrilled with the opportunity and said yes right away. I dreamed of the possibilities of shaping young minds and imparting my wisdom.
The big day came and I thought about all the wonderful things I planned to say and how I might relate to the students by finding common ground. I hadn't written anything down or rehearsed my speech, mind you, I just had a few notes scratched out as talking points on the back of an index card that I planned to expand upon.
I was on top of the world, as the classroom assembled and I just knew things would turn out great. The instructor quieted the room and handed the students off to me. This was the moment I had been waiting for. I launched into my presentation and right away I could tell something was off. My witty banter failed to connect with the students and a short 20 minutes in I ran out of material. Shaken but undeterred, I leaned further into my strengths and tried to reconnect with my audience by launching an impromptu Q&A session. Again I failed to connect and it fell flat after one or two questions. In an attempt to save the day I began to ramble incoherently about random related topics and anecdotes until the instructor mercifully stepped in and ended the session early.
The painful lesson
Where did I go wrong? Needless to say, it was a painful and humiliating experience, and while this may seem like an extreme example, it taught me to understand one very important thing. Balance is key. My presentation lacked one very important ingredient. If you guessed it lacked structure, you would be correct.
Reflections
What are a couple of things I could have done differently that might have changed my outcome, and why is balance so important?

Have you ever found yourself in a situation where you were woefully unprepared? How did you handle it?

Do you know and understand your natural inclinations?
If you are interested in learning more about how to achieve better balance and avoid overusing your natural strengths, please join me for part two.